Professional Keyboard:
● With Emergency button
● Radiation display
● Three programmable key
● Touch pad for friendly operation.
● Protection: IP43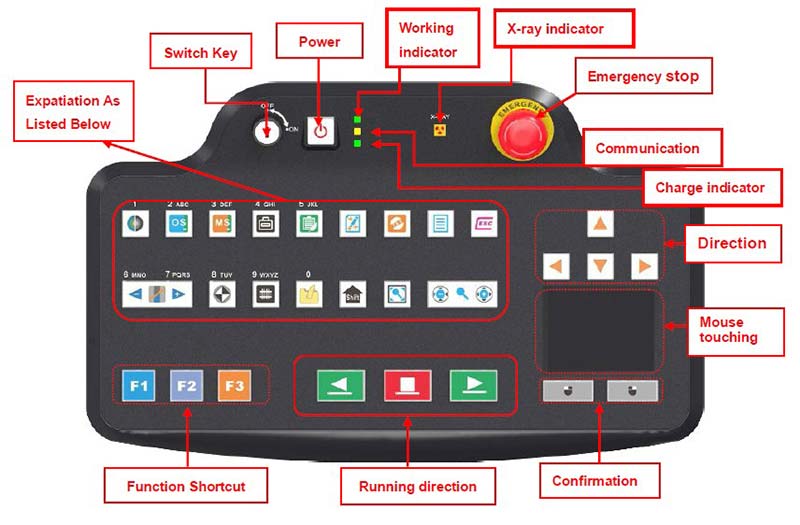 VX150180 is multi-energy x ray security inspection system for cargo scanning. It's powerful to deal with big size luggage at 150cm width, and 180cm height. It provides high resolution and ultra-clear images for easy object identification with the latest technology of computer control and image processing.
VX150180 can distinguish organic and inorganic materials by atomic composition of the material. VX150180 can distinguish explosives/drugs and realize Threat Image Project Function through adding different option. The operator can easily identify materials with the following coloring scheme:
Organic material--orange
Inorganic material--blue
Mixed material--green
High density material--black
General Specification:
Tunnel Size: 1500mm*1800mm
Conveyor Speed: 0.22m/s
Conveyor height : 350mm
Conveyor Max Load:2000kg
X ray Dose per inspection <2.8μSv
Wire Resolution:38AWG Guarantee, 40 AWG typical
Spatial resolution Level: dia1.3mm,Vertical: dia1.3mm
Penetration: 32 mm steel guarantee,34mm steel typical
Penetration Resolution :32AWG guarantee, 34AWG typical
Film Safety :Guarantee ASA/ISO1600 Film
X-ray Leakage: <0.1μSv/h (at a distance of 5cm From external housing)
Conveyor running direction: bi-direction
Throughput : Typically 720 bags per hour
Operation console: Two monitors 17inch
Mechanical construction: steel construction with steel panels, mounted on roller castors
Standard color: White
Extension roller for entrance and exit: 1.5m(optional)
◆ Image System:
Technical Principle: Dual-energy X-ray Imaging;
X-ray Sensor: L-Shaped Photodiode Array (multi-energetic)
Monitor: High Resolution Color, LCD Accord, 17inch
Image Display: High resolution of 1024 * 1280 pixel; Image Grey Level: 65536
Image Enhancement: 1-64times enlargement continuity, Color/BW, negative, high/low
penetration, organic /inorganic Stripping, general enhancement, and pseudo color, etc.
Image Recall: All preceding images recallable, retrieval.
Help detect Explosives & Narcotics: Explosives & narcotics alarm and highlight according to atomic number7.8.9 signature
High Density Region Alarm: Impenetrable region alarm and highlight, for possible concealing of threats and contrabands
Threat Image Projection: Inserting fictional, but realistic images of threat items into baggage during screening operation, for maintenance of vigilance, as well as training and assessment of image identification capability
Image Archive: Up to 50,000 images stored automatically, enable transferring to USB disk, and converting to XF、PNG、BMP、JPEG、TIFF、GIF formats
Miscellaneous Functions : Time/date display, counters, user management, system-on/X-ray-on timers, power on self test, built-in diagnostic facilities, dual-direction scanning, system log, system standby etc.
Network Applications: Multiple remote applications available based on Ethernet LAN and windows platform, such as image centralized storage and identify, recheck workstation, and network TIP, etc ( Optional) .
Images process: 24bit real time processing ,4colors analysis, Images displayed marked date and ID NO ,Count the number of bags ,Memory gray level:65536
◆ Operating Environment:
Operation temperature/Humidity: 0℃ to +40℃/10%-95%(non-condensing)
Storage Temperature/Humidity: -20℃to 60℃/ 5%-95%(non-condensing)
Operation Power: 220VAC(+10%~-15%)50±3Hz (Optional: 100VAC,110VAC,120VAC,200VAC)
Power Consumption: 2.0KW (max)
Noise: <58db
Dimensions (L×W×H) :2127mm*2230mm *2338mm
Weight: 3500kgs
◆ Computer Character:
CASE: IPC7132
Power: 250W/ATX
Main board: AIMB 501G2
CPU: G1610 2.6G
Storage: 2GB 1600MHz DDR3 Innodisk
Hard Disk: SEAGATE 500G 3.5"
◆ X-ray Generator:
Anode Voltage: 160kv adjustment
Anode power: 1.2mA adjustment
Generate angle: 80 degree downward
Brand: SPELLMAN
Generate direct: from top to bottom
Cooling / Duty Cycle: Oil Cooling /100%
◆ Other Characters:
Detect PCB board: UK brand Sensortech
Extension Rollers: customize size length
Support card reader operator access
CD DVR/RW unit: Optional
Computer system: XP system
Monitor: 17 inch DELL two monitors

Cargo Scanner Dimension

Operation Console Dimension