full automaic weight grading machine for fish,onion and vegetable industry
Fish onion and vegetable industry weight sorter
The weight grading machine is a perfect solution for the fish, onion and vegetable industries. The machine can be used to weigh small quantities of produce quickly and accurately. It is also suitable for both manual and automatic operation.
The machine consists of a weighing platform with a large capacity. The platform can be tilted up or down by an angle of 60 degrees, which allows you to grade the produce in any position. The scale is equipped with an electronic control panel that allows you to set different scales according to the required accuracy and speed.
The scale can be adjusted according to your needs: you can choose between different weighing capacities (from 200 grams up to 15 kg). The machine works at different speeds depending on how much product you want to grade at once: from 0-500 g/min (with stopwatch function) up to 2000 g/min (without stopwatch function).
Machine real picture (This is a three grade sorting not means the real machine)
Inspection product
Fresh chicken
Sorting range:
Four grade
1200-1400gram/1400-1600 gram/1600-1800gram/1800-2000gram/
Accurate: 10 gram
No2 Machine technical:
☆ Screen: 8inche full touch screen
☆ Weight range: Max 1000g
☆ Max speed : 2000pieces /hour (can adjust)
☆ Max accuracy: ±10g
☆ Screen resolution: 0.01g
☆ Rejection: deflector rod
☆ Running direction: Face operate panel from left to right
☆ Belt height from earth: 750±50MM(can customized )
☆ Products recipe storage: can storage 100kinds
☆ Power supply: customized 110---220V±20% 50HZ
☆ Machine structure: Full stainless steel 304
☆ Full machine weight: approx 100kg
NO3 Engineer drawing: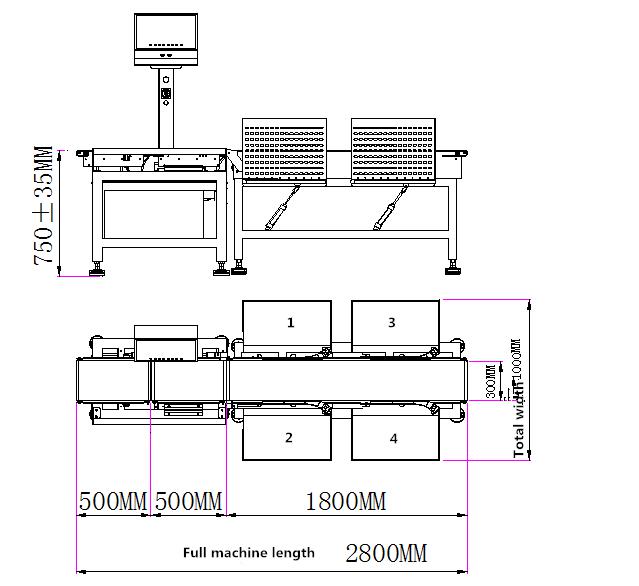 NO4 Machine bom parts list
| | | | |
| --- | --- | --- | --- |
| Parts Name | Specification /Brand | Unit | Use amount |
| Control system | Vfinder control system, 8 inch industrial touch screen | pcs | 1 |
| Weight sensor | Germany HBM | Pcs | 1 |
| Driving system | Delta | Pcs | 4 |
| Inverter | Delta | Pcs | 4 |
| photoelectric switch | Taiwan Riko | Pcs | 4 |
| Motor Switch | CHNT | Pcs | 1 |
| Conveyor belt | White Shabaker | Pcs | 1 |
| Main conveyor belt roller | NSK Bearing | Pcs | 4 |
| Accessory conveyer belt | NSK Bearing | Pcs | 1 |
NO5 V Finder series check weigher feature:
Standard Features
Control Panel Exterior is Stainless Steel and Painted
Conveyor is Non-waterproof
Balance is Force Balance
Frame is Stainless Steel and Painted
Color LCD Touch Screen
Optional Features
Tower Light (with buzzer alarm)
Data Printer
Emergency Stop Switch
Line Height Change
Plate for Anchor
Remote Indicator
Cross Plate
Product Guide
Wind Shield (full cover)
Wind Shield (top)
Wind Shield (protector)