automatic Muti grade weight sorting machine
automatic Multi grade weight sorting machine
The automatic Multi grade weight sorting machine is a great addition to any business. It can be used for sorting multiple items of similar size and weight, so you can easily separate them into different piles or boxes depending on what your business needs.
It's easy to use, as well. You simply need to place your items into the machine, and it will sort them out for you! The machine has an internal sorter that can sort multiple items at once, so there's no need to worry about running out of space or having too much of one type of item left over in the end.
It also has an external sorter that lets you choose how much weight each box should hold. This makes it possible for you to have more or less space available depending on what you need right now; if there's only one type of product in the box, then it will be small enough to fit inside another box without using up all its space; but if there are multiple types of products in the same package, then they'll all fit into this one box without wasting any room
checkweigher system for weight sorter
Checkweighers are systems used to assure compliance with label weight regulations and to minimize product giveaway. Our checkweighers will help you make sure items are not missing from packaging, reducing customer complaints, speeding up production and minimizing your giveaway.
Function and structure characteristics of check weigher
1. apply advanced digital signal processing and realize high speed and stable weighing.
2. with liquid crystal and tangibly screen, it is easy to operate.
3. self-diagnosis function, when Rom/Ram, A/D light electric tube.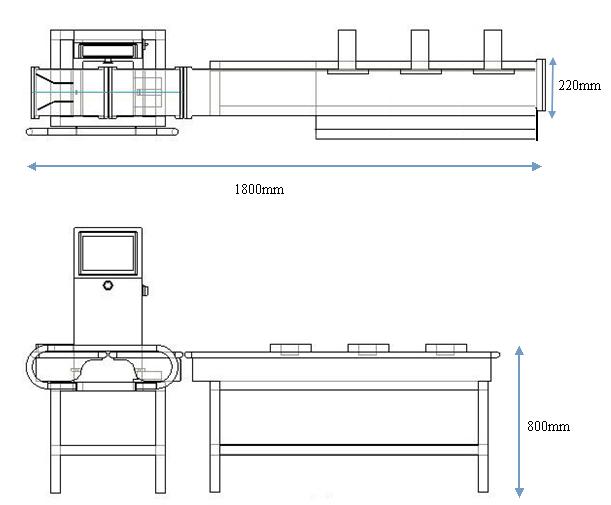 Scope of application of check weigher
Use in detecting the single product weight and setting target value which is accordingly or not. And the
sorting device will eliminate the un-standard product.
Features:
Three -grade check weigher machine features
Solid SUS304 stainless steel structure enable for good performance
Belt disassembling without tools, which is easier to clean
Rejection system choose :automatic stop by sound and light .air blast. or pneumatic push rod
emergency stop button for safety working condition
Takes of high sensitivity weigher sensor and 0 point automatic analyses and track technology ..
Full Big touch screen control system
Then products parameter records .easy product recipe edit and storage
Quickly shift and automatic self-adjustment . Can adjustment the memory product sorting speed
USB memory storage , Detection and records check data. Can put USB disk to computer for check analyses
Muti grade check weigher six grade weight sorting parameter:
Application:
Food.Medicine.snacks.cookies.biscuit .bread .Peanut and so on that need sorting different range of weigher
Our automatic Multi grade weight sorting machine is a high-tech solution for sorting any type of material, from grains and seeds to woodchips and plastics. It can sort up to four different grades of material at once and can automatically dump the sorted material into any container that you need it to be dumped in.
The machine consists of two parts: the input hopper and the output hopper. The input hopper is where you load your material into; you can simply open up the lid and pour it right in. Alternatively, if you have a lot of material to load into a small space, you can use an auger or other similar device to feed your materials through this area.
The output hopper holds all the sorted materials once they've been sorted out by the machine itself; it's not necessary for you to manually move them around (although we do recommend doing so as often as possible). When it's time for you to dump your sorted materials into another container or onto another machine, simply open up this part of the machine—and then dump it!
| | |
| --- | --- |
| Model | VC-M3 |
| Weight range | 5-500g |
| Max conveyor speed | Approx 100-150 pcs / minute depends on different product |
| Weight grade | 3 grader can customized according to customer requirement |
| Max accuracy balance | ±1g |
| Weigher sensor zone | 250mm(L)*220mm(W) or customized |
| Weigher manner | Strain resistance weigh |
| Rejection manner | Air blast .push rod .flap drop |
| Operate manner | Full touch screen control |
| Alarm method | Buzzer alarm and light |
| Power supply | AC110V/220V |
| Out dimension | 2000mm(L)*675mm(W)81350mm±50mm |
| Package | Strong ploy wooden case |